The first thing is why should animals spend their life in a cage, when in the wild they would roam hundreds of miles if they please. Imagine what the animal has to give up to spend years in a cage even if the owners say its in the best place. Many people say it's just a tiger, or at least it dosen't have to take all that energy to catch an animal in the wild, or it looks likes it in the cage. These are all not true. It is cruel to confine an animal of what it is suppose to do or what it was made to do, to catch animals, to roam the wild, and to be a wild animal. But in captivity it is stuck in a cage where it is therefore unfair. And all the owners have one and only purpose to charge you money for you to see a wild animal and they earn money for cruel behavior. And most of the owners in the end breed the cats for more people come and see the wild animal out of cuteness and the owners usually make a sob story to remove the cubs from the mom just didn't want it, and they had to help it for some strange reason. When they just want people to pay extra money to see it or play with it. Many people say they breed the animals because there are so few in the wild and they must conserve them. This is another lie for you to pay more money, how is more animals in a cage helping the ones in the wild? The answer is it does not help and when it is older it is thrown in a cage and a new cub replaces it. Many people can not see the problem because they say the cats are to cute. And when people come to see the cats they basically pay for more cubs to be born. The law states that a cat has to be a certain weight to be petted and some of the owners of the animals starve the cats to be a certain weight, so people will pay more money. They even will feed their tigers or bears domestic cat food so they will be in extremily under weight and be able tobe petted because it is a certain weight they want.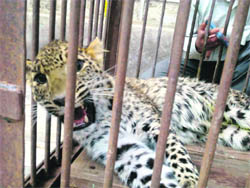 DO NOT VISIT ZOOS OR PLACES THAT HAVE WILD ANIMAL EXIBITS IT DOES NOT HELP CATS IN THE WILD!!! AND IF PEOPLE STOP PAYING FOR THE ABUSE, THE ABUSE WILL STOP!!!
LOOK PAST THE CUTENESS AND SEE THE TRUE WILD ANIMALS IN A CAGE!!!
SEE THE TRUE ABUSE IN A CAGE YOU NEVER KNOW WHAT HAPPENS BEHIND CLOSED DOORS!!!